Summer Resort News
18th June 2018
Family festival fun at 'FestiPlagne' this August in the French Alps
'FestiPlagne', the family festival that encourages children and parents to work together and have fun, returns to the Alps. Four days of unique team-building activities from the 20th – 23rd August. Last year Plagne Aime 2000 was turned into a Jurassic world, Plagne 1800 went Medieval, pirates took over Plagne Villages and Belle Plagne went wintry. This year parent-child duos must conquer a world of cartoons, an outer space experience, a tropical paradise and an acrobatics wonderland.
FestiPlagne is a free event for parent/child teams to complete as many activities together as possible. Teams receive a stamp on their 'event passport', participants that complete at least 12 of the 16 activities of the challenge will be entered into a draw at the closing party.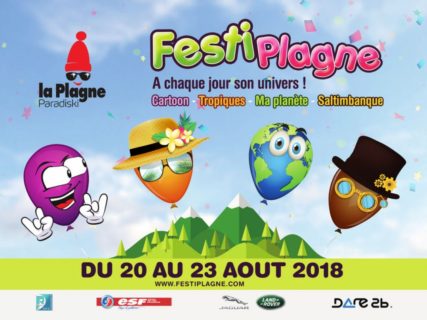 Champagny is a traditional Alpine village that makes a great base for mountain biking, and hiking and exploring the wildlife at nearby Vanoise National Park. La Plagne and wider Paradiski can be accessed by car or by using the lifts from Champagny.
Peak Retreats, the French Alps specialist (www.peakretreats.co.uk/summer; 02392 839310), offers 14 nights self-catered in August from £223pp (was £263pp) including a standard return midweek ferry crossing if you book before 25/08. Family-friendly 4* Luxury Les Alpages de Champagny is set in a beautiful location with panoramic views of the village and mountains. Facilities include a private indoor swimming pool with sauna, steam room and fitness room, and an on-site O des Cîmes Spa. *Price based on 5 sharing a 2-bedroom apartment (sleeps up to 6) arriving 18/08/18.
---
Enjoy Village Life in Valloire with Peak Retreats (and save 20% on 7-night stays in July and August!)
Escape the masses with a summer abroad to a sunny, family-friendly Alpine village in the heart of the French Alps.
From the 14-15th August, Valloire is holding the Fête Patronale, a big authentic festival organized by the AEP Cultural Centre. There's a great programme of traditional-French events and activities including a big parade, fun fair, folklore show, fireworks show, Tomme cheese making demonstrations, a Savoyard race and a ball. Each day ends with a musical show and a large traditional meal including local specialities such as diots, cheeses and pastries.
Valloire is a large, traditional village an hour from Chambéry Airport. Its best known as a mountain biking haven (home to 130km of routes), but also makes a good base for hiking, climbing, horse-riding, archery and golf.
Peak Retreats, the French Alps specialist, has a selection of family-friendly residences in Valloire. Book before September and get 7 nights self-catered in August from £116pp (was £140pp) with Peak Retreats (www.peakretreats.co.uk/summer; 02392 839310) including a standard return midweek ferry crossing. 3* Superior Les Chalets du Galibier is set in a pretty hamlet, a 5-minute walk from the village centre.
*Price based on 5 sharing a 2-bedroom apartment (sleeps up to 6) arriving 11/8/18.
---
Discover the art of mountainboarding in Les Saisies with Peak Retreats (and save £91pp!)
This summer Les Saisies is home to the unique sport of mountainboarding. Mountainboarding is a hybrid discipline that sits somewhere between snowboarding and skateboarding. Riders use a sturdy board, mounted on four all-terrain wheels and equipped with a brake, to ride Les Saisies' pistes-come-tracks.
The state-certified instructors at Les Saisies have created different options so regardless of age or ability, there's mountainboarding for everyone. Beginners or those looking to hone their skills can take a one-off class or 4 half-day course. Classes are suitable for ages 5+ to adult, for beginners to the experienced. For the adventurous, they have created several itineraries to explore the resort's tracks. All necessary protection (helmet, knee pads, elbow pads, wrist guards) are provided.
Les Saisies is a charming village with a bustling high street, 40 shops and a big selection of bars, pubs and restaurants. It lies half way between the Beaufortain and the Val d'Arly valleys. The village is one of our Tried and Tested summer resorts and you can read the full resort review for Les Saisies where there's mountain-biking, hiking and plenty of other activities.
Peak Retreats, the French Alps specialist, has a selection of family-friendly residences in Les Saisies. Book before September and get 14 nights self-catered in July and August from £292pp (was £383pp) with Peak Retreats (www.peakretreats.co.uk/summer; 02392 839310) including a standard return midweek ferry crossing. 4* Le Hameau du Beaufortain is set in a tranquil forest offering superb views.
*Price based on 5 sharing a 2-bedroom apartment (sleeps up to 6) arriving 28/7/18.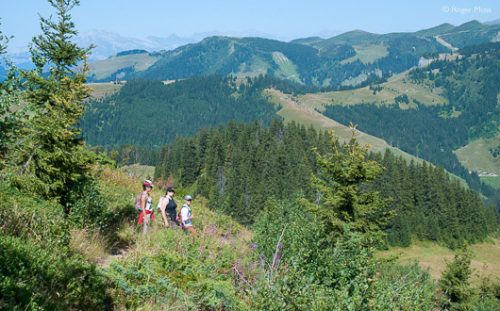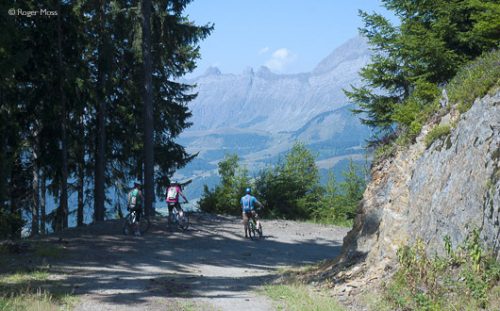 ---
Peak Retreats introduces Arêches-Beaufort resort to its winter 2018/19 programme
Peak Retreats, the French Alps specialist, is the first mainstream UK operator to add Arêches-Beaufort to its programme. The UK-based tour operator now features 57 mountain villages in the French Alps for 2018/19.
Unknown to the UK market, Arêches-Beaufort is a typical Beaufortain village resort in the heart of the Savoie, just 20km from the town of Albertville. Off the beaten track but with Mont Blanc as its backdrop, the resort has 50km of pistes and a top resort height of 2320m. Arêches-Beaufort is within driving distance of Les Contamines (with 120km of pistes) and Les Saisies (which has 192km of pistes).
The authentic, traditional resort, known for its Beaufort cheese, is a year-round working village with independent local businesses including ski-hire shops and restaurants. It's a fantastic destination for summer visits too with stunning scenery and plenty of outdoor activities to try.
Peak Retreats now offers self-catered apartments at a brand new residence in Arêches-Beaufort, opening in December 2018. 4-star La Clé des Cîmes sits 400m from the resort centre and a 3-minute shuttle bus ride from the nearest lift and ski school meeting point (there is a bus stop outside the residence). Facilities include a reception, lounge, kids/teenagers clubs, indoor heated pool, wellness area, Jacuzzi, hammam, sauna, ski lockers and underground parking. A restaurant is planned. Bookings are now being taken for 7 nights self-catered from £181pp with Peak Retreats (www.peakretreats.co.uk; 023 9283 9310) including a return Eurotunnel crossing with a free upgrade to FlexiPlus.
*Price correct as of date sent. Price based on 5 people sharing a 2-bedroom apartment in low season. Special offers are available.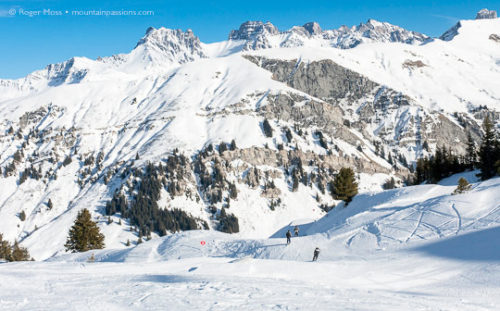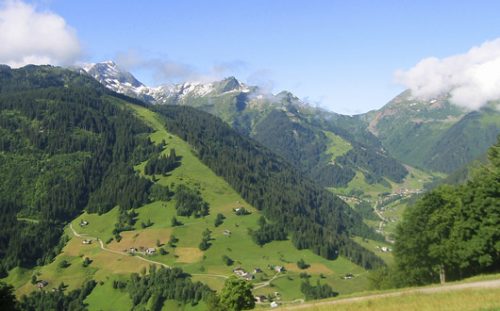 ---
Lake Annecy to host Europe's biggest fireworks show!
On Saturday 4th August, Annecy will host of biggest fireworks show in Europe. The 88th edition of Fête du Lac will be run by descendant of a long line of Italian artificers, Founding Director of Pyroemotions Ltd Malta, Andréa Scarpato. The 70-minute themed show will tell the story of two travellers using fireworks, music, light, lasers, fountains and fire engines.
Lake Annecy is internationally renowned for its beautiful landscape and for the fantastic water quality which, thanks to the efforts made to protect it for over 50 years, is now the purest in Europe. It is home to many sports including wakeboarding and fishing, and has 11 supervised beaches for swimming. Annecy is just south of Lake Geneva near the resorts of Annecy Mountains including Le Grand Bornand and La Clusaz.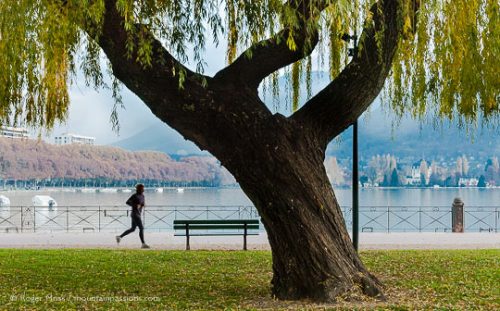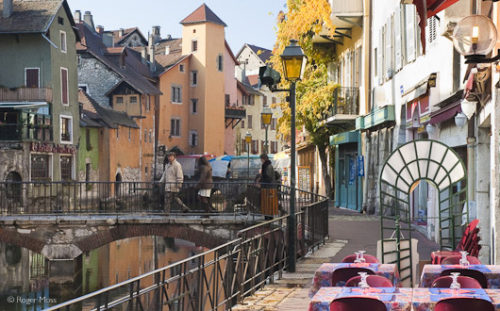 SAVINGS OF OVER £50pp ON PEAK SUMMER WEEKS
14 nights self-catered in July/August from £686pp (was £741pp) in Annecy with Peak Retreats (www.peakretreats.co.uk/summer; 02392 839310) including a standard return midweek ferry crossing. 3* Superior Les Chataigniers is in the peaceful village of Saint Jorioz. The residence, adjacent to the Chataigniers Hotel, has an outdoor and an indoor swimming pool, sauna, steam room, fitness room, boules, badminton and volleyball pitches, children's play area and daily pony rides. Nearby payable activities bookable on-site include sailing, canoeing, guided walks, watersports on the Lake, the Adventure Park and two golf courses.
*Price based on 5 sharing a 2-bedroom apartment (sleeps up to 6) arriving 29/7/18.
---
Where to Ski in the French Alps this Summer
After record breaking winter snowfalls and a season that seemed to go on longer than ever, you won't need to pack your ski gear away just yet. This summer sees the chic French resort of Val d'Isère opening their slopes for summer skiing alongside other high Alpine resorts including Les Deux Alpes and Tignes.
Combining skiing with a multi-activity summer holiday is the best way to make the most of a summer holiday in the French Alps. Resorts offer masses of often free activities plus exciting networks of VTT trails suited to all levels. When the ski slopes open as early as 7am and close around lunchtime, you'll have plenty of time to switch to another sport or simply to relax at one of the superb resort aqua-centres and spas. Summer is also a great time to learn to ski. Ski-schools operate throughout the season and and will get you off to a great start on the relatively easy glacier slopes.
Tignes
Open 12 July – 1 September 2018
Perhaps the best known resort for summer skiing, the glacier at Tignes offers 20km of runs plus a snowpark. Open from 6-15am-3-45pm (12 July – 6 August) and opening at 9-15am until the end of the season, a one-day adult skipass costs 25€ (child 20€). Pedestrians can also access the glacier but don't miss the chance to enjoy the large terrace and restaurant at the top of the funiculaire with its superb views.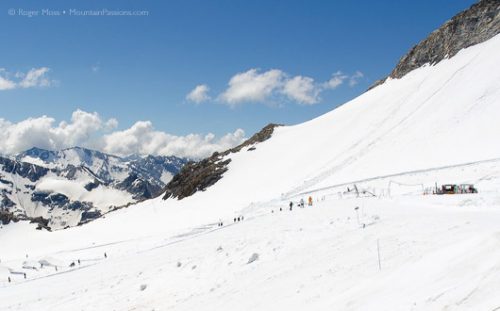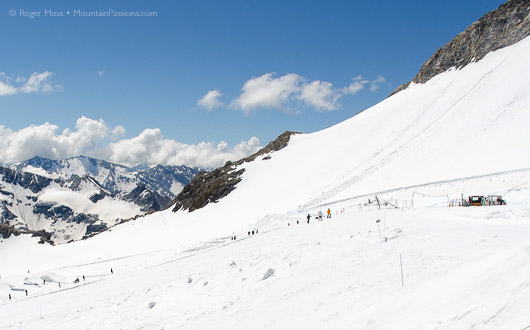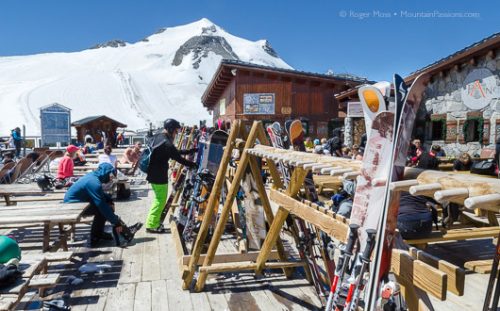 We visited Tignes during July a few summers ago with Alps Specialist Peak Retreats and stayed in the luxury residence Le Télémark self-catering apartments just a few minutes walk from the centre of Tignes Le Lac. You can see our full review of Tignes in summer in our resorts section.
Les Deux-Alpes
23 June – 26 August 2018
Open from 7am – 12-30pm every day, Les 2 Alpes opens 11 pistes on its snow-sure glacier for summer skiing. At an altitide of 3600m you're guaranteed a great ski experience and many skiers come here to train. An adult skipass costs 40.90€ though you can get a half-day pass which starts from a more realistic time of 9-30am and costs 32.70€. Buy a 2-6 day skipass and you get extra activities thrown in including a daily entrance to the swimming pool, taboggan runs and 1 hour of tennis (2 passes req'd).
Go at the start of the summer season and Les 2 Alpes will welcome you at their huge Outdoor Festival from the 22-24 June (see details below).
Val d'Isère
3 June – 13 July 2018
After exceptional snowfall during the winter season, summer skiing at Val d'Isère will be possible in two areas, Bellevarde which is above the La Daille area and accessible from the funival and then the Marmottes chairlift, and then the Pissaillas Glacier. Open daily from 7am – 12 noon, you can buy a skipass at the funival (28€ per day) for skiing at Bellevarde until the Col is open (about 15 days). After which, the red and blue graded slopes of the Pissaillas Glacier will open until 13 July, conditions allowing. The skipass for the Glacier can be bought at the Col de l'Iséran and will also cost 28€.
This is the first time in the history of the resort that summer skiing has been open to the public so why not be part of this momentous season and try skiing there this summer. Up to date info at Val d'Isère website.
---
Start the summer in the Les Deux Alpes – a French Alps resort with more activities in the summer than in the winter!
This year, Les Deux Alpes is holding its second Outdoor Festival from 22nd – 24th June. The festival is abundance of activities including skiing, snowboarding, mountain biking, paragliding, trail running, slacklines, yoga, hiking, swimming and electric biking. After the activities have finished, everyone is invited to the big outdoor picnics.
Main Events
Mountain biking
There's three races open to the public: downhill, Enduro or electric bike race
Relaxed MTB circuits with food tasting
A biking tour for families and a party on the Diable run
Trail running and hiking
A 7k race, with a 2,000m climb (La Double Verticale du Diable)
A 3k race from Venosc village to the resort
An 11k race on Les Balcons de Venosc
Serious runners can take part in the Trail de la Fée (20k) and the 3600 Summit Trail (39k), Europe's 2nd highest skyrunning race.
Paragliding
Watch a stage of the Word Cup during the Festival!
Skiing and snowboarding
A Freestyle competition on Europe's largest skiable glacier
Golf
Introduction sessions on the 9-hole golf course
Street golf in the resort's streets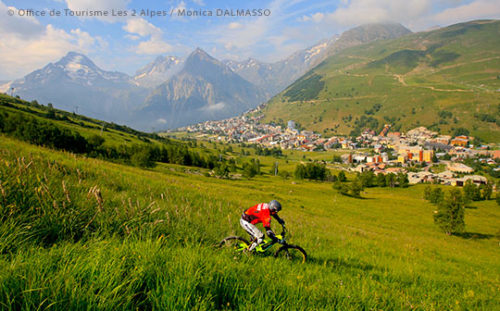 ---