Summer Resort News
20th April 2016
Elevation Alps launch luxury cycling holidays in the French mountain resort of Morzine
Elevation Alps, the luxury apartment specialists in Morzine, has teamed up with cycling holiday company, Buzz Performance to create the ultimate guided Alpine cycling program.
The new partnership focuses on high-end self-catered apartments and chalets in Morzine, combined with the experience and regional knowledge of the Buzz Performance team. The area is famous for its cycling routes that include the 2016 penultimate route of the Tour de France which finished in the ski resort of Morzine – as famous now for its summer activities as it is for winter holidays.
Full holiday packages are available to book directly through Elevation Alps that include the guided cycling on offer with Buzz Performance.
Kathryn Leake, General Manager of Elevation Alps, comments: "We are delighted to create this new partnership and as you would expect from Elevation, we have handpicked the best and most highly qualified local guides and enabled our guests to create completely bespoke packages. Morzine is an amazing place to ride with breath taking scenery and world renowned routes. The mountain passes or 'cols' included in the Tour de France are on your doorstep, as are many less well known spectacular climbs".
Example package
€525 euros per person including 7 nights self-catered accommodation in Chalet des Nants 2 (based on 4 adults), 5 half day guided cycle rides, welcome pack, tourist tax, end of stay clean.
Elevation Alps guests can also add on daily guiding from €35 per person alongside their accommodation booking.
Bookings:
elevationalps.com, +33 (0) 625 59 13 27, info@elevationalps.com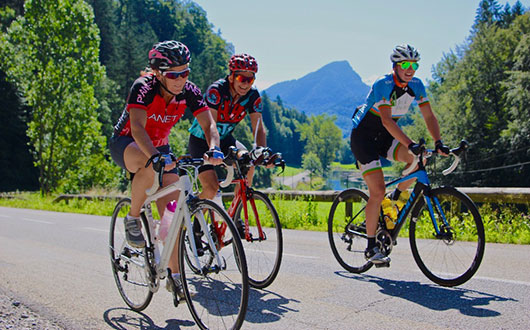 NEW this summer in LES GETS
THE "WIBIT PARK: A NEW CONCEPT IN INFLATABLE WATER FUN, exciting water play "modules", including slides, a water trampoline… a new fun filled family play innovation!
LES GETS "VINTAGE GOLF CUP": on 13th August, a unique event inviting golfers and non-golfers to take a step back in time. An introduction for beginners and a scramble competition for experienced golfers are the main competition events. Perfect for anyone who wants to revisit the elegant, glamourous attire of bygone days. Retro dress required!
PERE DELAVAY'S BOTANICAL GARDEN: An interesting and educational sensory journey, a perfect family outing to learn about new plants…
FARM VISIT WITH A MEAL: Guests and hosts share tales of life and work in the mountains whilst savouring soft handmade cheese and delicious charcuterie from Caroline and Noel's Hérens cattle.
A MOUNTAIN BIKE CHRONO PARK, to measure your time over a downhill mountain bike course and to compare it with those of a World Champion!
GET FIT SOLO OR WITH A PRO… Chose how you want to get fit and achieve your goals…
HISTORIC WOODEN MERRY-GO-ROUND RESTORATION PROJECT: For those interested in traditional heritage; learn about Mechanical Music through the ages at the Mechanical Music Museum with its impressive collection, including the last operational traditional merry-go-round, now requiring restoration. Fund raising has enabled the restoration of this 145 year-old monument…